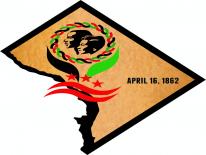 Last Date:
Location:
1215 U St NW Washington, District of Columbia 20009
Details:
"THE GREAT DEBATE II" KICKS OFF 2013 DC EMANCIPATION DAY AT THE LINCOLN THEATRE ON SUNDAY, APRIL 14 AT 6:00 PM
Rev. Al Sharpton, Star Parker, Julianne Malveaux and Niger Innis to Address Critical Issues Affecting America at the Historic Lincoln Theatre
Emmy-award Winning Broadcaster Ed Gordon Will Serve as Moderator
(District of Columbia) Today, Councilmember Vincent Orange (At-Large, D) announced that the upcoming 2013 DC Emancipation Day activities will begin on Sunday, April 14 with the Emancipation Day Great Debate II. The "Great Debate II" is a collaborative effort by the Council of the District of Columbia, the Office of Cable Television and Centric, a subsidiary of Black Entertainment Television (BET). The "Great Debate II" pays homage to the seven debates in 1858 between Republican Senate nominee Abraham Lincoln and Democratic Senate nominee Stephen Douglass over issues concerning an America in flux, notably slavery.
The "Great Debate II" returns to the Lincoln Theatre and will follow the same format as last year's "Great Debate", with four panelists, two representing the liberal point of view and two representing the conservative point of view. The panelists will espouse their opinions and expertise on such matters as the economy, unemployment, healthcare, education, and gun control.
Emmy-award winning broadcaster Ed Gordon will serve as moderator for the "Great Debate II". He is an industry veteran known for his stellar interaction with newsmakers from the world of politics, entertainment and sports. Ed Gordon is currently the host of BET's "Weekly with Ed Gordon".
The panelists for this year's event will be civil rights activist and MSNBC host Rev. Al Sharpton, author and Republican politician Star Parker, author and political commentator Julianne Malveaux, and National Spokesperson for the Congress of Racial Equality and MSNBC contributor Niger Innis. "Paxton Baker at Centric did a wonderful job in securing a great moderator and a great panel," Orange said. "This year's moderator and panel are more than qualified to discuss the crucial issues affecting not only African-Americans, but all Americans. I look forward to a lively and spirited debate."
"Last year's 'Great Debate' was a great success," said Councilmember Orange. "I'm even more excited about 'Great Debate II'." The Emancipation Day Great Debate II will begin at 6:00 p.m. at the Lincoln Theatre on Sunday, April 14, 2013, and will be streamed live on OCT.gov and Centrictv.com. The debate will also air on Centric at a later date. The "Great Debate II" is free and open to the public.
The DC Emancipation Day celebration is an historic occasion in the nation's capital. On April 16, 1862, President Lincoln signed the District of Columbia Compensated Emancipation Act. The Act released the 3,100 enslaved persons in the District of Columbia, making them the "first freed" at a cost of one million dollars to the federal government. Nine months later, on January 1, 1863, President Lincoln signed the Emancipation Proclamation of 1863 to begin to end institutionalized slavery in America.
Ward:
Ward 1
Ward 2
Ward 3
Ward 4
Ward 5
Ward 6
Ward 7
Ward 8